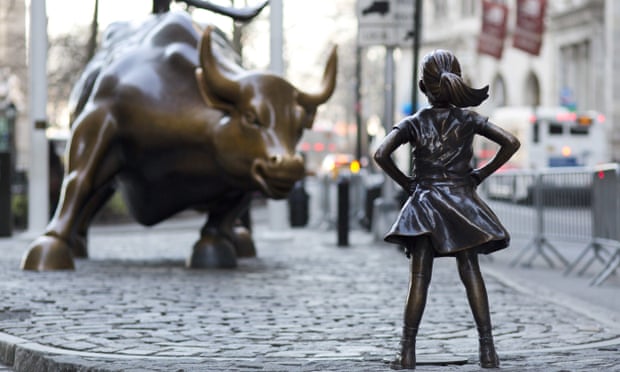 Re:
'Charging Bull' sculptor says New York's 'Fearless Girl' statue violates his rights | US news | The Guardian
Putting Fearless Girl in front of Charging Bull made a clever mash-up, but as a creator, I have more sympathy for Charging Bull's artist than many seem to. He made a great piece of art. Then another artist came along and placed her work where it made his subordinate to hers. Would you put a beautifully carved statue of a TV near the Mona Lisa so it looked like she was smiling at it?
This reminds me that ethical graffiti artists don't paint over other artists' work.
I grant that people who love this want a more diverse Wall Street, while I want an end to Wall Street. They want a Girl who will join the Bull. I want a kid who will kill it.
ETA:
Fearless Girl? She looks like she's auditioning for a TV talent show | Emma Brockes | Opinion | The Guardian
:
Since being placed opposite the bull, on the eve of International Women's Day, the Fearless Girl – hands on hips, ponytail swinging – has been the subject of a million concerned pieces about the misuse of art, the infantilisation of female ambition, and the kind of fraudulent feminism that promises little girls, if they work hard, they can grow up to be bankers.
ETA:
'Fearless Girl' and 'Charging Bull' are more alike than you'd think - The Washington Post
:
"...the multitrillion-dollar financial firm that commissioned and installed "Fearless Girl" still has only three women on its 11-member board.

...The strain of female success that "Fearless Girl" champions most specifically — More women in the boardroom! More women on Wall Street! More women at the top! — is also the one most aligned with the capitalism-loving, individualistic ethos of the bull itself."
ETA:
seriously, the guy has a point | gregfallis.com